Susan Komen 3 days, 60 miles
3 Days, 60 miles to erase breast cancer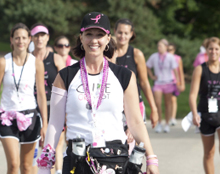 About the event 3-Day
Each year, everyday people like you are inspired to join the Susan G. Komen 3-Day™ and help us erase breast cancer forever. If you're new to the 3-Day, please take a few minutes to explore this section. By the time you're finished, you'll be prepared and inspired to take your first step on this incredible journey.
Conservation International

People depend on nature for many things. A stable climate. Clean air. Fresh water. Abundant food. Cultural resources. And the incalculable additional benefits the world's biodiversity provides. Conservation International (CI) works to ensure a healthy and productive planet for us all. Yet economic and infrastructure development, which are so necessary for human well-being, can also have serious impacts on nature. That is why Conservation International is working at every level – from remote villages to the offices of presidents and premiers – to help move whole societies toward a smarter development path.